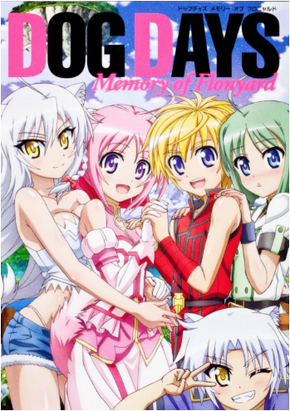 DOG DAYS Memory of Flonyard
is the ultimate guide to the series Dog Days. Published by Kadokawa Shonen, it was released in January 25, 2012. 200 pages long, it features illustrations, character profiles and concept designs, screen caps, story digest and episode guides, interviews, backgrounds, story boards, and more.
It also features a short-comic titled Episode 13.8 Match Watching (試合観戦 Shiai Kansen), a prologue to Dog Days' (second season), to how Nanami and Rebecca was summoned to Flognarde.
Ad blocker interference detected!
Wikia is a free-to-use site that makes money from advertising. We have a modified experience for viewers using ad blockers

Wikia is not accessible if you've made further modifications. Remove the custom ad blocker rule(s) and the page will load as expected.