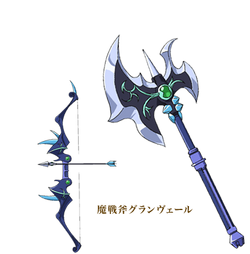 The
Demonic War-Axe Granveil
(魔戦斧グランヴェール, masenfu guranverru)
[1]
is one of the treasure swords pair that belong to the
Galette Lion Territory
. It is currently in possession with
Leonmitchelli Galette des Rois
.
Background
Other Forms
The war axe can transform into other weapon forms according to the user's preference.
Great Sword: Used when during in the battlefields.
Archery From: Used during the battle against the demonic fox monster in Episode 12.
References
↑

Dog Days' official website, character section
Ad blocker interference detected!
Wikia is a free-to-use site that makes money from advertising. We have a modified experience for viewers using ad blockers

Wikia is not accessible if you've made further modifications. Remove the custom ad blocker rule(s) and the page will load as expected.